Some Remarks about the Cyrillo-Methodian Bibliography in Bulgaria and its Electronic Version
Słowa kluczowe:
Cyrillo-Methodian bibliography, MARC 21, bibliographic database, full-text database, bibliographic citations, information exchange
Abstrakt
The article presents the work in Bulgaria on the preparation and publication of the Cyrillo-Methodian bibliography. It has been highlighted that since 1980 the Cyrillo-Methodian Research Centrе at the Bulgarian Academy of Sciences has been the institution responsible at international level for the collection, processing and publishing of the Cyrillo-Methodian Bibliography. The stages of automation of the bibliography are traced and the need to convert the records from the bibliographic database to a machine-readable format for data exchange is justified. The main prospects for the development of the electronic Cyrillo-Methodian Bibliography are outlined as follows: full-text presentation of the publications described therein; application of bibliographic citation measurement software; constructing an application in which users can add bibliographic records and electronic resources in the field of Cyrillo-Methodian studies.
Bibliografia
• Balgarski portal za otvorena nauka / Bulgarian Portal for Open Science, [online] https://bpos.bg/ [accessed 26.01.2023].
• CDS/ISIS software package, [online] https://unesdoc.unesco.org/ark:/48223/pf0000381051 [accessed 06.07.2023].
• Dujchev I., Kirmagova, A. Paunova A., Kirilometodievska bibliografija. 1940–1980, Sofia 1983.
• Golubović A., Savić V., Prilog bibliografiјi domaće ćirilometodiјevistike, [in:] Sveti Ćirilo i Metodiјe i slovensko pisano nasleđe (863–2013), Beograd 2014, pp. 447–537.
• Havlíková L, Ivanič P., Hetényi M., Po stopách sv. Cyrila a Metoda. Výberová bibliografia českých a slovenských prác za roky 1945–2011, Nitra 2013.
• Iljinskij G.A., Opyt sistematicheskoj kirillo-mefod'evskoj bibliografii, ed. M.P. Popruzhenko, S.M. Romanski, Sofia 1934.
• Kirilo-Metodievska bibliografija / Cyrillo-Methodian Bibliography, [online] http://aleph.cl.bas.bg/F/QJ5NSS18NQVPESU4M8N8XM7XPH79QNDTDFIYFMII4EUHUMVTDA-06018?func=find-b&request=KMNC&find_code=WST&adjacent=Y&local_base=&x=21&y=7&filter_code_1=WLN&filter_request_1=&filter_code_2=WYR&filter_request_2=&filter_code_3=WYR&filter_request_3=&filter_code_4=WFM&filter_request_4=&filter_code_5=WCL&filter_request_5= [accessed 26.01.2023].
• Makarijoska L., Prilog kon kirilometodievskata bibliografija v Makedonija (po povod 1100-godishninata od upokojuvanjeto na sv. Kliment Ohridski), "Kirilo-metodiev-istika" 2016, Vol. 10, pp. 123–263.
• MARC Standards, [online] https://www.loc.gov/marc/ [accessed 26.01.2023].
• Mircheva B., Slavjanski kirilo-metodievski izvori, ed. V. Zhelyazkova, Sofia 2021, [on-line] https://www.kmnc.bg/издания/е-книги/ [accessed 26.01.2023].
• Možaeva I.E., Bibliografiâ po kirillo-mefodievskoj problematike. 1945–1974 gg., Moskva 1980.
• Popruzhenko M.P., Romanski S., Kirilometodievska bibliografija za 1934–1940 god., Sofia 1942.
• Zhelyazkova V., Zafirova N., Balgarska kirilo-metodievska bibliografija. 1846–1934 g., [in:] Kirilo-Metodievska bibliografija. 1516–1934, ed. S. Nikolova, Sofia 2003, pp. 419–685.
• Zhelyazkova V., Zafirova N., Balgarska kirilo-metodievska bibliografija. 1935–1944 g., [in:] Kirilo-Metodievska bibliografija. 1934–1944, ed. S. Nikolova, Sofia 2010, pp. 203–389.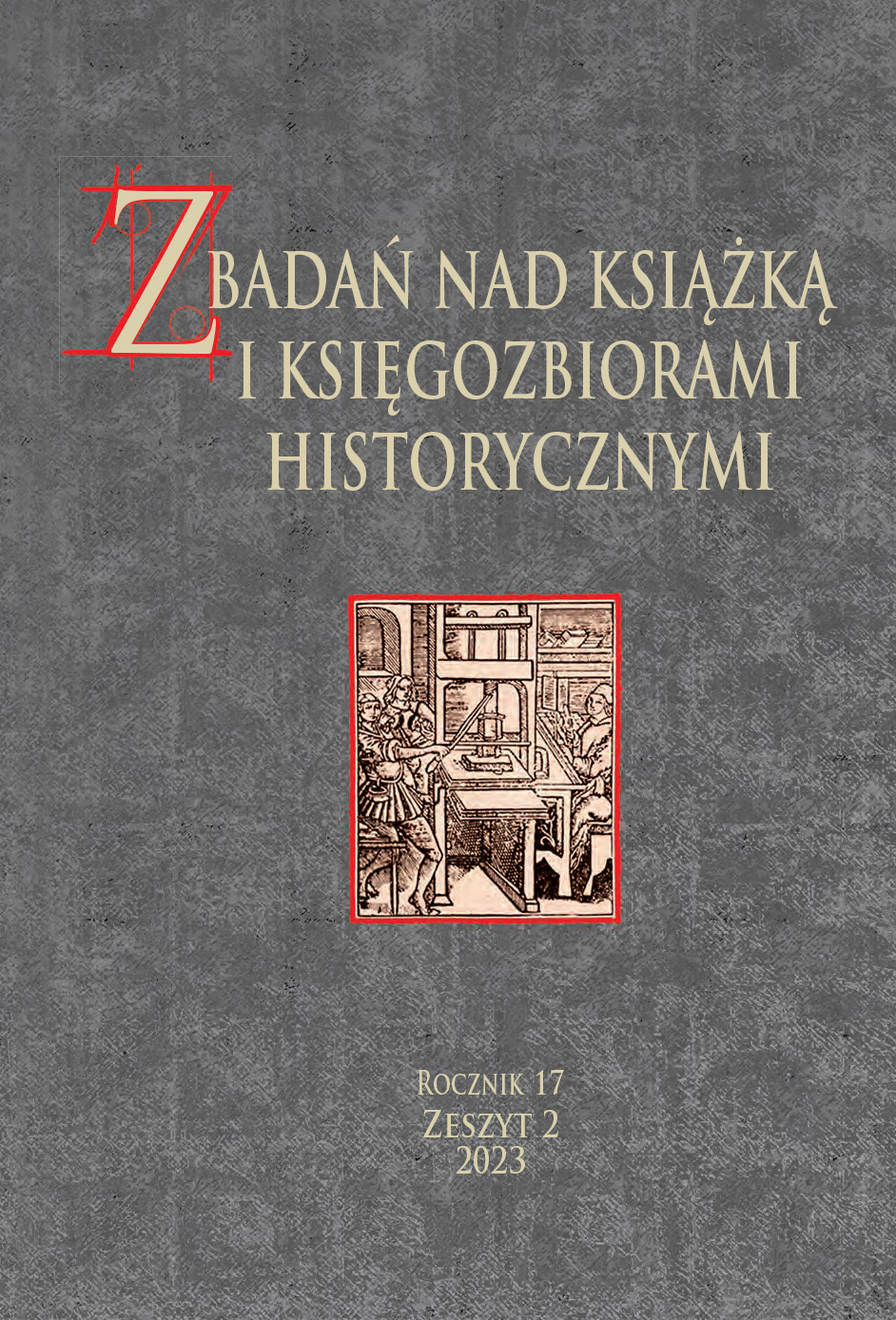 Pobrania